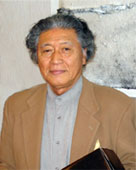 Jiro Inagaki (1933 – 2008), a very inspiring artist from the city of Hasami (near Nagasaki) has had an important influence on art in Japan. Originally a silk-kimono specialist, he became the foremost "green" artist in Japan and a great supporter of cross cultural exchanges.
Jiro Inagaki was born in 1933 in Kanagawa near Yokohama. After art school he specialized further on the Musasino Art University, where he made special study of Modern Western Art. Initially he focused on the design of kimonos. He became designer for kimonos for the Japanese Imperial Family. In Japan, this form of art is valued highly.
He also had a predilection for paper art. As off the age of 38, he started dedicating himself to this particular art material. From the age of 43 he exclusively focussed on paper art.
Jiro based his artistic motivation on the manual production of paper. Around his residence on the island of Kyushu are still dozens of art studios where paper is made in the age-old Japanese tradition. In his bond with nature he based his production methods on a thorough study on principles of organic material compatibility to abide by his purist belief.
The composition's are conceptional and originate always from wet layers of paper pulp. Jiro rigorous process involved multiple layers of wet paper pulp assembled with selected materials, varying from rope to wood, zinc, copper, leaves etc. This material would form the "drawing", which he might finish again with a thin cover layer of pulp, resulting in subtle more or less inverted relief images of paper.
Jiro Inagaki artwork is on exhibit in several Japanese museums. In Europe he exhibited for example in Hamburg and Stockholm.
In the early 1980′s he established a connection with accomplished artists in the Netherlands leading to an intercultural exchange of artists, culture and art in general.
Profile
2011

Les salles voisines, Vezenobres France
Art Gallery Gooilust – 's-Graveland The Netherlands

2009

Art Gallery Gooilust – 's-Graveland The Netherlands

2008

Gallery De Opsteker – Amsterdam The Netherlands

2007

Gallery Le Moulin Bram France

2006

Gallery Bianca Landgraaf Laren The Netherlands

2005

KNT Gallery Nagasaki Japan

2004

Ginza Art Gallery Tokyo Ginza Japan

2003

Holland Art Fair Amsterdam The Netherlands
Europe Artists joint Exhibition Cluj Romania

2002

Gallery Reinart Oss The Netherlands
Gallery Vromans Amsterdam The Netherlands
Gallery Company Dordrecht The Netherlands

2001

Gallery Seiho Tokyo Ginza Japan
Gallery U. House Fukuoka) Japan

2000

Gallery Reinart Oss The Netherlands
Museums and Public Collections
The manufacturing 01 the Grown Prince empress and the kimono
'Surihaku Nohsouzoku National Museum of Japanese History
'Surlhaku Nohsouzoku Swedish National Museum of Oriental Art and Crafts
KAISI Hironamiya Crown Prince
Hamburg Municipal Museum Germany
Yokohama Chamber of Commerce and Industry
Oita Prefecture
Nagasaki Prefecture
A. E. G corporation
Hotel Atlanta Nittuko